Site last updated: Aug 19, 2023
Fresno Weekly Open Meetings
---
Friday Newcomer Meetings:
"No Longer Alone"
Friday Night: 5:30-6:30PM
Newcomer meetings are in-person at Hope Lutheran Church - Room 26
---
Tuesday Meetings (Online):
"Holding onto Hope"
Tuesday Night: 7:00-8:30PM
Tuesday meetings are now online. Use the buttons for more information and to download the client.
---
Thursday Meetings (In-Person):
"Hope in Fresno"
Thursday Night: 5:30-7:00PM
Thursday meetings are in-person at Hope Lutheran Church Room 26 (click for location)
---
New to Nar-Anon?
The newcomer meetings are a series of six topic-based meetings where you will have the opportunity to ask questions about how Nar-Anon works. We recommend attending all six newcomer meetings.Some of the topics discussed in newcomer meetings include "How to deal with stress," "Detaching with Love," and "Sponsorship."
If you relate to any of these issues, you can find help in the fellowship of Nar-Anon.
---
Reunión Abierta Semanal
(En Español)
Ya no tenemos reuniones en español, pero haga clic a continuación para solicitar información sobre los servicios en español.
We no longer have Spanish language meetings, but click below to request info about services in Spanish.
Hope Lutheran Church
5435 N. Fresno St.
(NW corner of Barstow and Fresno)
All in-person meetings are in Room 26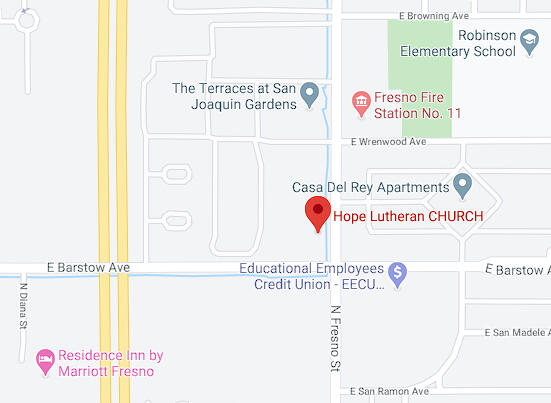 About us
The Serenity Prayer
"God, grant me the serenity to accept the things I cannot change, courage to change the things I can, and the wisdom to know the difference.
Have you ever...
Covered up for the addict?

Made excuses for the addict?

Paid the addict's bills, rent, or utilities?

Felt hopeless because of the addict's choices?

Isolated yourself from others because you don't want them to know what is going on in your life?

Felt ashamed by the behavior of the addict?

Felt alone?
What is Nar-Anon?
The Family Group is for those who know or have known a feeling of desperation due to the addiction of someone close to them. Nar-Anon members meet to share their experience, strength, and hope at weekly meetings.Whether the addict is using or not, Nar-Anon offers hope and recovery to all people affected by the addiction of a loved one. This means that our open meetings welcome anyone who feels they would benefit from attending. You are not required to speak at a meeting if you do not feel comfortable doing so."The Nar-Anon Family Groups are a worldwide fellowship for those affected by someone else's addiction. As a twelve step program, we offer our help by sharing our experience, strength, and hope." [ Copyright 2014 NFGH Inc. Quoted from "The Nar-Anon Blue Booklet" with permission.]
Nar-Anon is intended for parents, spouses, children, siblings, and friends of addicts. Nar-Anon can provide new insights to help with our attitudes, behaviors, and emotions. We can regain our own sanity and well-being. We learn addiction is a family disease, and we need a recovery program too. In Nar-Anon we learn we are not responsible for another person's addiction. Addicts need help and so do we. It can be a great relief to learn more effective ways of coping while gaining hope and peace of mind.
[ Copyright 2014 NFGH Inc. Quoted from "Nar-Anon Offers Hope" with permission.]
---
We meet to...
Give unconditional support to the family or friend of an addict.

Share our experience, strength, and hope.

Learn to focus on ourselves and not on the addict.

Learn about drug abuse as an illness.

Help regain our self-confidence.
---
Associated Websites
Nar-Anon World Service HQ
---
Northern California Region
---
Central California Region
---
Southern California Region
---
Pacific Northwest Region
---
Northern California
Nar-Anon
Mt. Diablo Area (East Bay)
Golden Gate Area (SF & Marin County)
---
Links, sites, services, or other information that does not originate from the Nar-Anon site are provided in the spirit of cooperation and do not constitute an affiliation or endorsement.
Contact Us
(Non-Emergency)
---
by phone
---
by email
---
Contact information for other Nar-Anon chapters is available on our About Us page.
Online Meetings (via Zoom)
---
Tuesday Meetings (Online):
"Holding onto Hope"
Tuesday Night: 7:00-8:30PM
Meeting ID: 949 617 764
Password: Naranon
About this site
---
The background is used with permission from the original artist, Terabass, and is licensed under the Creative Commons license CC BY-SA 3.0. The original image is available here.